Published on Monday, June 6, 2016 by admin
The Burmese American Community Institute Celebrates its Five Years of Advocacy, Education, Service and Community Partnership
INDIANAPOLIS, JUNE 5, 2016 – The Burmese American Community Institute celebrated five years with a Service Day and an event honoring its partners on June 4, 2016.
Hosted at the Southport High School gym, the morning comprehensive service fair — which included a college and scholarship fair, a job fair, a health fair and a citizenship fair — was attended by 40 different service providers and over 300 community members.
The Institute also distributed a 77-page Chin version of the Community Integration Guidebook at their event which is also being translated into Burmese to ensure all refugees from Burma have access to this document that is designed to help newcomers with their long-term integration through the educational process.
As part of celebrating the community achievements, a partners' recognition and appreciation dinner was held in the evening followed by an entertainment and cultural show.
Many organizations and individuals were honored for their support and partnership with BACI. Among them were the United States Citizenship and Immigration Services (USCIS) Indianapolis Field Office for their outstanding partnership through naturalization and civic education, Perry Township Schools for their support and partnership through education initiatives, and the University of Indianapolis for their comprehensive support in efforts to help the community members gain self-sufficiency through education and service.
In his remarks, Elaisa Vahnie, Executive Director of BACI, thanked former Mayor of Indianapolis Gregory Ballard for his leadership and said that the event was truly a celebration of the power of partnership and community achievement together.
Mayor Ballard and city leadership in the past had created a policy environment where all people regardless of their ethnic and religious backgrounds feels welcome and safe. Not only that, but also Mayor Ballard has also taken on the important initiative of making Indianapolis a rapidly internationalizing and global city, Vahnie commented.
And moving forward, he said he has every reason to expect the new Mayor to have the same level of engagement with incoming community.
"All the positive development and outcomes would not have been possible without the support and collaborative partnership of various organizations and individuals like you," remarked Vahnie. "If we keep working together, our shared community will only be stronger".
The dinner was followed by an evening of traditional Burmese entertainment. Talented singers and dancers performed in the evening, attended by over 300 dignitaries, community members, students and parents.
BACI Board Chairman Dr. Ro Ding in his concluding remarks thanked and asked all partners to work together as the organization continues to put in all their effort to assist the common interests of the shared community.
Since its inception, BACI has assisted more than 3000 individuals through various services for their long-term self-sufficiency, ultimately aimed at contributing to the community members becoming productive and contributing citizens of the society.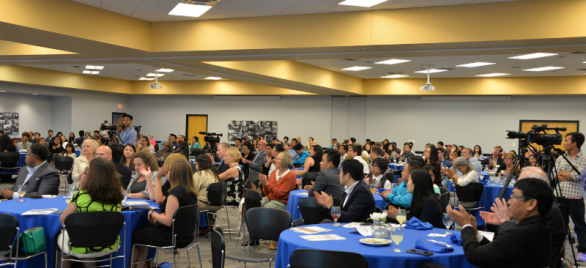 About BACI
The Burmese American Community Institute (BACI) is a non-profit organization that provides educational and vocational support to the Burmese community in greater Indianapolis. The BACI strives to support community members regionally, nationally, and globally through strategic partnerships and advocacy.