Published on Wednesday, November 16, 2016 by admin
INDIANAPOLIS, Nov. 16, 2016 – Indianapolis Mayor Joe Hogsett spoke Nov. 15 to leaders of the Myanmar/Burmese community in Indianapolis and reassured that the city will strive to be a welcoming and inclusive place to live for all residents. In a meeting with the diverse representatives from Myanmar community, Mayor Hogsett addressed international and cultural affairs, education and economic development. Building on former Mayor Greg Ballard's focus on Indianapolis as an international city, the new mayor plans to continue to foster a diverse community.
The mayor also emphasized education opportunities that allow students and parents to be able to choose the school they want to attend.
"Every child in the city should have access to quality education," Hogsett said.
He underscored the importance of the economic growth to improve the quality of life. To achieve this goal, the city will invest in building roads, bridges and infrastructure and will develop other programs designed to spur economic development in the city, Hogsett said.
Public safety issues are another challenge for Indianapolis. Mayor Hogsett said the city is making investments in public safety in order to curb violence in the city.
Indianapolis City-County Council member Scott Kreider, R., Mayor's Neighborhood Advocate Allie Kast, Officials from Indianapolis Metro Police Department, and more than 70 leaders from Burmese American Community Institute (BACI), Chin Community of Indiana, Kachin, Bama, and Rakhaine participated in the event. BACI Executive Director Elaisa Vahnie said that the visit demonstrates the level of Mayor Hogsett's commitment to partnerships with all groups including the Burmese in Indianapolis, a community of nearly 16,000 people from Myanmar.
"We are thankful and fortunate to be part of this rapidly internationalizing city where the leadership has created a policy environment in which every citizen regardless of their ethnic and religious backgrounds feels welcome, safe and can dream the American dream," Vahnie said.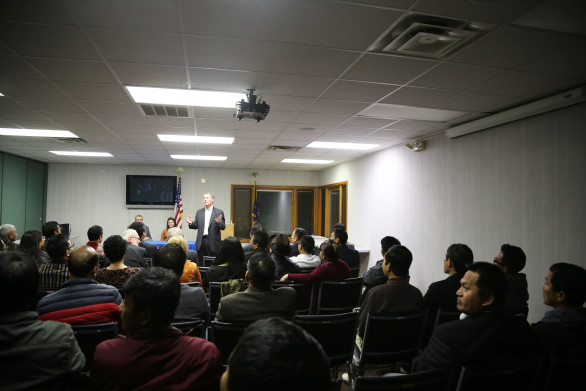 ###