Published on Tuesday, February 7, 2017 by admin
Myanmar Community in Indianapolis to Commemorate 'Union Day of Burma'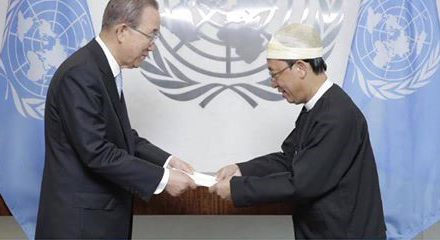 Ambassador Hau Do Suan, Permanent Representative of the Union of Myanmar to the United Nations, will speak at the event
INDIANAPOLIS, Feb. 7, 2017 — For the first time, Myanmar ethnic communities residing in Central Indiana will observe the 70th Anniversary of Union Day of Burma, celebrated on Feb 11 and honoring the signing of the Panglong Agreement on Feb 12, 1947. The event will be held at the University of Indianapolis on Saturday from 5-9 p.m.
Ambassador Hau Do Suan, Permanent Representative of the Union of Myanmar to the United Nations, will speak at the event designed to promote cultural understanding between Myanmar ethnic groups and community members in Central Indiana. Prior to his appointment in July 2016, Suan served as Myanmar's ambassador to Canada beginning in 2013.
The meeting of Myanmar ethnic groups led by Bogyoke Aung San in the town of Panglong after World War II led to independence from the British colony and the creation of the Union of Burma. Union Day is widely viewed by major ethnic groups of Myanmar as a day of unity based on the principles of federalist democracy and equality.
The Indianapolis event provides an opportunity for the Myanmar diaspora in the United States and their friends to show support for the new 21st Century Panglong Conference that was held in Myanmar in August 2016. Set to meet again later this month, the conference is aimed at reaching a nationwide ceasefire agreement between the military and ethnic armed organizations, initiating a framework for political dialogue and beginning national reconciliation for a country that has been ravaged by civil war and poverty for more than half a century.
"At this historic moment, we call upon all stakeholders in the country to honor and implement the democratic principles and spirits expressed in the Panglong Agreement by demonstrating their sincere political will and commitment to peace through equal and inclusive process led by Myanmar State Counsellor Daw Aung San Suu Kyi," said Elaisa Vahnie, Director of the Burmese American Community Institute.
The event will feature ethnic dances, fashion, music and food representing eight main ethnic groups of Myanmar.
-more-
Myanmar: Burman, Chin, Kachin, Kayah (Karenni), Karen, Mon, Rakhaine and Shan. Performances and activities will take place in the university's Esch Hall and Ransburg Auditorium, 1400 E. Hanna Ave. in Indianapolis. The celebration is free and open to the public. For more information, contact Burmese American Community Institute at 317.731.5537 or info@baci-indy.org.
Media Contact:
Lian Sang, Programs Director
Burmese American Community Institute
317.731.5537
info@baci-indy.org